If you want to exponentially increase the traffic of your website without expending a huge effort or money in the creation of new content we strongly recommend you to launch a multilingual site.
This could sound ambitious but fortunately, there is a very easy to use plugin that can help in this task. I'm talking about one of the most popular translation plugins called Polylang.
Why Polylang?
If you research about translation plugins for WordPress, probably you'll immediately hear about WMPL. Nevertheless, we strongly recommend Polylang as it has a very short learning curve. In fact, this plugin enables you to add unlimited languages to your website with support for manual and automatic translations.
How to integrate QuadMenu and Polylang
The best at all is that you have to do nothing to integrate QuadMenu and Polylang, as we've developed our mega menu plugin to seamlessly integrate with this translation plugin. Hoverer, there are some things you should take in mind to understand how it works.
Polylang Swticher
After activating Polylang a new metabox called Language Switcher will be included in your menu area, and it allows you to include the language switcher in your menu.
QuadMenu has been tested to allow you to support all the language switcher configurations, like the inline view and dropdown view, the flags and languages titles.
Polylang Locations
After activating some languages in Polylang you'll see new locations in your menu dashboard as the plugin creates a virtual menu location for each language that allows you to create different menus.
As you probably know, because you've read the documentation, each "menu location" has its own instance of options under the QuadMenu configuration tab as it allows you to modify the style of each theme location by creating a theme of settings options.
However, you'll notice that the language menu locations will not be displayed in the QuadMenu options as all the language locations will take the settings of the primary location.

If you go to the WordPress menu dashboard you'll see the QuadMenu icon aside all the active locations an its virual language locations. You can activate one menu in all those locations or create a different menu for each language.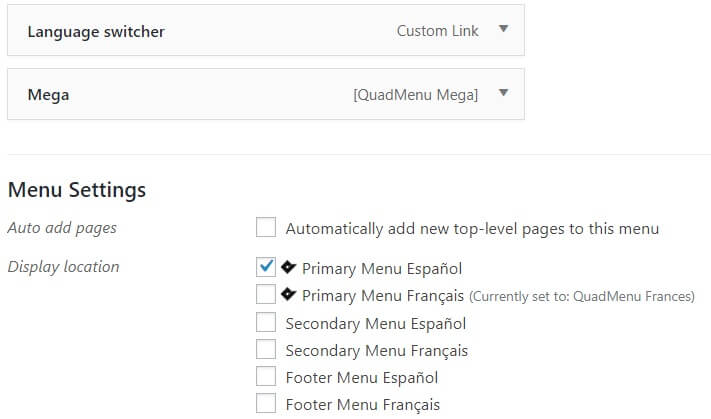 That's all you should know about the Polylang and QuadMenu integration. Hope you enjoy both plugins and increase the traffic of your websites!