The hamburger menu is an excellent and widely used option for web pages since it allows users to focus their attention on content, gain space on the screen and maintain the minimalist design.
There are excellent plugins and themes that allow organizing the hamburger menu but also have many features and tools that will allow us to get the most out of it, whether you are doing minimalist for a mobile version, or with more extended content (texts of more of a line, images, etc.) in desktop versions.
Let's see which are the best and what they offer so that our menu is the best and meets the objectives.
QuadMenu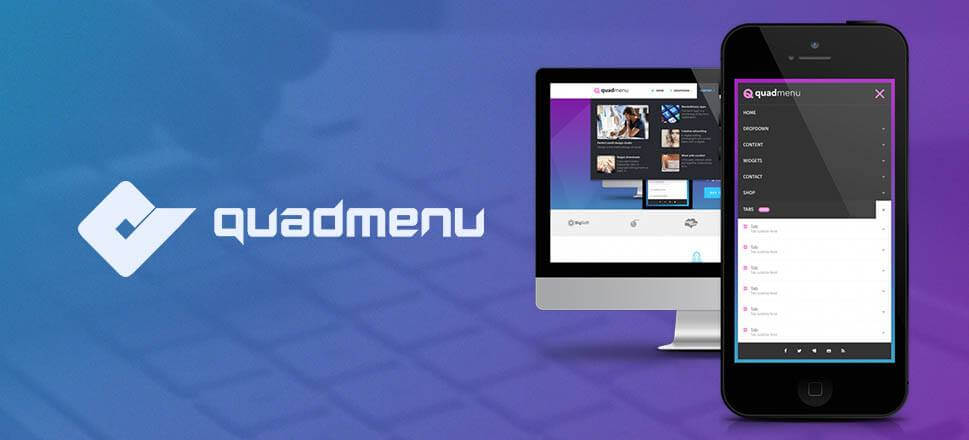 This is for sure one of the best mega menus for WordPress which allows you easily integrate the menu in your theme. With QuadMenu you can create mega menus, tabs menus and carrousel menus in a simple and native interface.
The mobile view of this mega menu fit all screen sizes and unlike other alternatives, the touch screen events have been incorporated natively improving the user experience in touch screens.
ShiftNav
ShiftNav is a mobile menu for WordPress with an app appearance. Its design and management are similar to that of applications such as Facebook and Gmail that have slide-out menus. It integrates automatically, has a light and a dark skin, works with the WordPress 3 menu system, the transitions are smooth thanks to CSS3, enabled active touch and has a free version and a pro.
WP Mobile Menu
This mobile menu has many functions and advantages: naked header, menus of 3 levels, allows to add the logo or text, the background image for menus, overlay mask when the menu is open, hide specific menu items in the mobile version, Google Fonts and more customization options. Its premium version offers multiple advantages, such as menus visible only to registered users, more than 2000 icons, deactivates the menu on specific pages, alternative menus per page, 5 menu levels, copyright section and functions oriented to e-commerce as a cart icon in the menu, slide cart with links and mobile filters for products.
It has three types of demo: free, one for Ecommerce and one professional.
Onero
This theme has more than 27 templates and is installed quickly. It allows the personalization of many details without having to add code, it also offers a preview in real time of how the responsive page will look. It has a configuration guide, page builder, social icons, Google Maps, price lists, icons set, testimonials, Woocommerce elements, contact forms, recent products, and hamburger menu, among other details.
Folie
Like the previous one, it is a page builder that doesn't require a code, you just have to select and drag as in the image editors. Each resource is loaded only when necessary, which prevents overload. You can see the changes in real time, add content on the fly, add a hamburger menu, page2page communication, optimized images, spaces that you can drag and change places, predefined elements, and content in more than 25 templates, unlimited blog customization and more.
Menu 3D
This is quite simple, it's a customizable menu with 5 colors, Font Awesome, Google Fonts, HTML5, CSS3 and RWD that will give a 3D effect to the menu, moving the page away when you select it.
Animated Hamburger Menu Icons
It's also quite simple: this Adobe Muse widget allows you to add an animation (there are 7 available) to the 3 parallel stripes of the hamburger menu when you hover over them, but despite the simplicity, it looks great.
Overlay
This plugin has many advantages and its configuration is quite flexible in terms of configuration. With it you can create a superimposed menu for the main navigation or outside the main navigation, it's installed with a click, it supports shortcodes, automatic loading, it's responsive, it allows to configure the button options of the menu and the background of the same, it supports icons of Font Awesome; supports WPML, WooCommerce and widgets.
Slick Slide Menu Addon for WPBakery Page Builder
This add-on allows to create responsive menus with widgets area, personalized position, ready for translation and you can use 4 menus at the same time. You can also use the menu all over the web and it supports shortcodes.
Hamburger Icon Menu
This plugin includes 5 layouts, size options, color and animation, allows to place a background video in full screen or a static image, supports Google Fonts, has social icons section and sliding menu with content.
Responsive Expand Hamburger
With this plugin, you can create CSS3 transitions, display it in the whole web or in specific posts, customize icons, menus, color, background, position, links, etc. It's compatible with jQuery.
Specular
This plugin offers more than 28 templates, visual composer, extra lateral navigation, slider, is responsive, very flexible in the configuration of the layout and doesn't require code.
Amos
Amos is focused on creative agencies or freelancers, with a click you can build the header of your preference. Offers more than 10 customizable templates, social buttons, visual composer, is responsive and has an installation guide.
Uncode
Uncode is a theme based on the WP Bakery Page Builder, it's clean, modern, and allows you to drag and drop to create your menu or use the more than 40 templates it offers. It also has a header builder, slider, optimized images, content blocks and complies with the GDPR.
Bridge
This retina-ready theme has a powerful and flexible framework. It offers more than 374 demos, visual composer, allows to import in a click, CSS3 effects, integration with social channels, elements for infographics and more.
KALLYAS
This theme has more than 100 preloaded and reusable elements, and a page builder, is focused on ecommerce and offers a designer to avoid secondary actions in Photoshop.
Pofo
For those who like to create their web pages detail by detail and meticulously, this theme offers more than 200 templates. It's SEO friendly, compatible with WooCommerce, responsive, has the function of drag and drop with your page builder.
XStore
This theme focused on eCommerce, allows the use of widgets, is user-friendly and also doesn't require code. It also offers more than 70 store templates, hovers effects, with its update the theme became lighter and contributes to reducing the loading time of the page.
Stack
Stack is a theme that contains more than 150 demo pages, 290 custom interface blocks, a dedicated page builder, multiple navigation styles, integration with social channels, integration with Contact Form 7, WooCommerce layouts, color customization and more.
Which other do you know or use? Tell us!